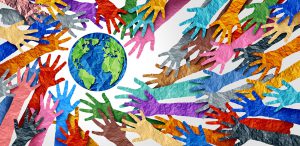 It's no secret the cannabis industry is off-balance when it comes to people of color and business ownership. In 2017, an estimated 12 percent of cannabis businesses were Black-, Latin-, or Asian-owned, and the percentage hasn't increased much since then. A legalized market has created massive career and entrepreneurial opportunities, but less than a third of the thirty-six states where cannabis is legal have created or prioritized social equity programs.
Historically, Black and Brown people participating in the illicit cannabis market were discriminated against in ways that have spanned generations due to incarceration and its aftermath and the impact injustice continues to have on their families. These same people, who would have been regarded as entrepreneurs and artisan growers in today's legal marketplace, are languishing in jail or have criminal records that greatly affect their career opportunities. As legalization continues to spread across the country, one thing is clear: If we don't advocate and enact equity programming in every legalized market, we will continue to see people of color have more difficulty succeeding than their White colleagues. Everyone deserves reliable income and equal opportunity.
About more than ownership
Social equity in the cannabis industry isn't only about business ownership and stakeholding. It's also about fostering a culture that promotes educational and professional development and constantly striving to create an engaging, inclusive environment. Social equity is supporting Black and Brown entrepreneurs through shared knowledge and resources. It's about strengthening community partnerships and sustainability and being attentive to the needs of marginalized communities.
To many people, equity means simply employing more people of color, but so much more than that needs to be accomplished. We must assess hiring practices. How do we take into account some applicants may be considered "better qualified" than others because they were presented with opportunities to gain experience based solely on skin color? Once equity employees are hired, we must continue to provide resources and opportunities through mentorship programs, financial coaching, and perhaps standard-of-living stipends. Corporate culture is a powerful agent for change.
Recognizing bias
We must recognize our biases—institutional and individual—in everything we do, from hiring, educating, and training to marketing and promotion. Providing discounted or waived marketing fees to brands owned by people of color might be one way to facilitate positive change. We can recognize equity-owned and minority-owned businesses and direct purchasing their way; even toward competitors when appropriate. Overall, acknowledging privilege and investing in people by supplying knowledge and support makes a difference not only during their time in the cannabis industry but also for the rest of their lives.
The biggest challenges in creating social equity programs include financing and gaining a deeper understanding of the complexity of the issue. We must continue listening to applicants and working with partners to create programs that offer more durable opportunities. Some initiatives have provided the hoped-for impact while others have not, but even failed initiatives provide opportunities to grow and learn from one another, especially when given the chance to learn with people who are different from us. Trial-and-error is a time-tested method for improving outcomes, and the resources gained and lessons learned help us better connect with and understand one another.
As an emerging industry, our equity models provide unique opportunities to change the way we operate as businesses and inspire other industries to pursue positive evolution. Local and state governments need to step up and provide better access to resources for equity operators, and businesses need to enrich programs through the work of in-house experts and external partnerships. The industry as a whole should help equity brands succeed by assisting in creating competitive products, highlighting their work through social media and other channels, and encouraging consumers to purchase from them. It will take all of us working together to bring equity goals to fruition.